"The REACCH internship solidified my desire to pursue a research and education focused career. I gained so much experience and had contact with so many wonderful and supportive faculty at UI." ~ Ames Fowler, REACCH Intern
"Having personal contact and real science discussions with a real professor was an empowering experience and helped me gain the confidence to forge more relationships with professors throughout the rest of my undergrad degree." ~ Georgia Seyfried, REACCH Intern
"REACCH was my first hands-on introduction to lab and field science and allowed me to have a very competitive resume and get jobs in subsequent years." ~ Sebastian Markus Ederer Mortimer, REACCH Intern
Applications for Summer 2018 internships are now open! Apply Now!
As part of the REACCH legacy, the University of Idaho, Washington State University and Oregon State University will continue to offer 10 undergraduate summer internships in the summers of 2018 and 2019. Students will work on projects related to agricultural sustainability and climate change with focus areas in the disciplines of soil ecology, weed science, entomology, climate science, rural sociology and applied economics. Internships will last 9 weeks, generally from early June to early August. Participants will be provided $700 for travel, housing and a $500 weekly stipend. Each intern will work under a faculty mentor conducting their own research. Interns are encouraged to publish or present their research (funding available) upon completion of their work.
For more information visit the internship application page or contact the REACCH Internship Coordinator, Marijka Haverhals, at Marijka@uidaho.edu, or the Principal Investigator, Dr. Jodi Johnson-Maynard, at jmaynard@uidaho.edu. Funding is provided by USDA NIFA award 2016-67032-25012.
Hear from past REACCH interns about their experience
---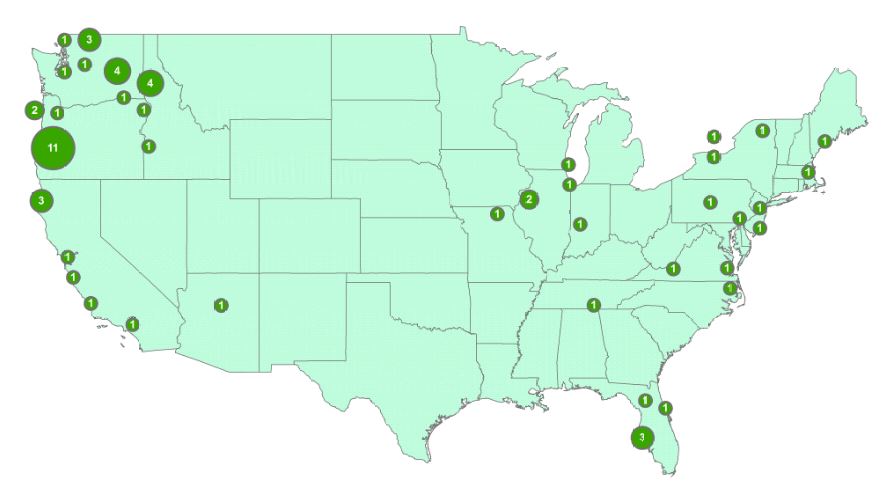 REACCH interns are drawn from institutions across the United States. The green circles indicate the number of students from each location from 2011-2015
Learn more about past interns and their research:
2017 Interns and Projects
2016 Interns and Projects
2015 Interns and Projects
2014 Interns and Projects
2013 Interns and Projects
2012 Interns and Projects