REACCH is engaging with many agricultural stakeholders to better understand the social, political and economic factors associated with climate change that influence decisions that growers have to make. A better understanding of these factors will allow REACCH to provide tools that help growers make financially viable decisions, manage risks, and maintain farm sustainability well into the future.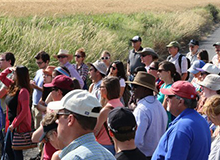 Social Dynamics
Implementation of surveys helps REACCH teams comprehend cereal growers' current management strategies, use of technologies and understanding of climate change. Researchers also study the social dynamics of teams associated with large transdisciplinary research projects.
Related articles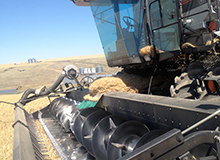 Economics
REACCH teams incorporate current climate and agricultural data into models in order to project plausible future scenarios that can impact economic decisions associated with climate change and agriculture in the Pacific Northwest.
Related articles
Related annual report articles
Visit Data Management for digital tools that support socioeconomic decision making.
Visit Outreacch and Teacching for more on social engagement.